Venue
The conference will be held at KOBE University Centennial Hall in Kobe University, Kobe, Japan, which is near the heart of downtown Kobe. You can get the tourist information at the web site
http://www.city.kobe.lg.jp/foreign/english/
The detail information for access to KOBE University Centennial Hall is available below.
Access information
Access information (in Japanese)
Transportation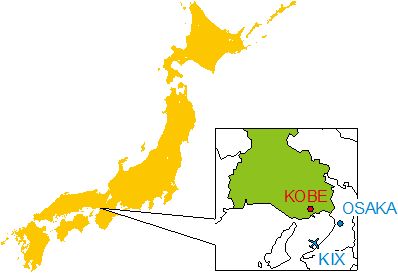 You can reach "Kobe Sannomiya" by limousine bus from Kansai International Airport (KIX) (time required: 65 min. /fare: 1,800 JPY). At "Sannomiya," go to Hankyu Railways and get onto the Kobe Line concourse bound for "Umeda." Take the local train to "Rokko" station (3rd stop, time required: 6 min. /fare: 180 JPY).
Accomodation
Since the nearest station to the conference venue is "Rokko" (Hankyu Railways), we recommended you to book hotels near stations of Hankyu Railways (e.g. Sannomiya). Moreover, Sannomiya station is the terminal station where you can get on all the trains (except shinkansen) and buses to get Osaka/Kyoto/Himeji/Nara.
Most hotels around Sannomiya station are booked fully because the schedule of the ICGC9 includes a national holiday (November 3). We recommended hotels around Osaka or Umeda station. It takes about 30 min to get from Umeda to Rokko station of Hankyu Railway. We described URL of some recommended Hotels below.
Hotel VISTA PREMIO DOJIMA
The HOTEL NORTH OSAKA
HOTEL new HANKYU ANNEX

You can also find other hotels, by using following booking site.
Booking.com